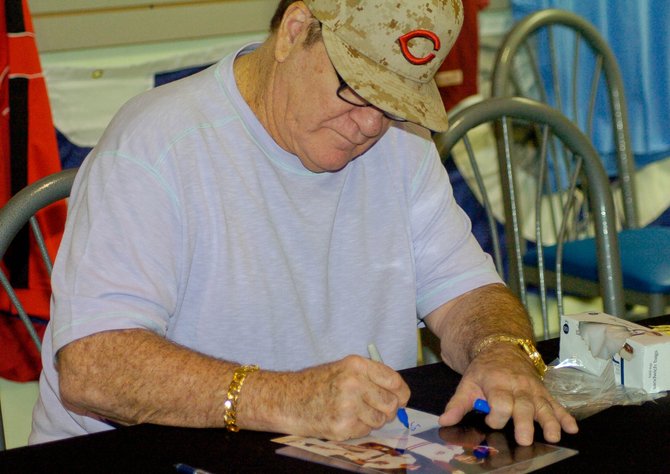 continued — Lindsley, who came to the Albany sports radio market from Syracuse in April, said interviewing Rose was a career highlight for him.
"I've been around these guys all my life, so I've been very lucky," said Lindsley, who is in his early 30s. "But, I've never been around a guy who hustled as much as Pete Rose did."
Rose was a polarizing player on the field. People either admired or hated the way he aggressively ran the base paths during his 24-year career.
"I was brought up a Yankees fan, but I always admired great players and he was a great player," Betz said of Rose, who spent his career playing for the Reds and the Philadelphia Phillies.
What no one can argue is Rose's career total of 4,256 hits, 65 more than the previous record held by Detroit Tigers great Ty Cobb. Rose also batted .303, walked 1,566 times and scored 3,562 runs.
Rose said the secret to his success was his knowledge of the pitchers he faced.
"I've told people this before and they don't believe me, but the easiest place to hit is in the big leagues," said Rose. "First of all the lights are better, the umpires are better and the pitchers all throw strikes. But the biggest thing is the pitchers never change how they pitch. They're not going to change what they do every off-season. They're not going to add a pitch during the off-season."
Rose was also a successful manager, having won 426 games in four seasons in Cincinnati before he was banned by then-MLB commissioner A. Bartlett Giamatti in August 1989. Since then, Rose has traveled the country signing autographs, including an annual stop in Cooperstown around the time of the National Baseball Hall of Fame induction ceremonies.
Though the lifetime ban Rose agreed to dictates that he can't be inducted into the Hall of Fame, some feel that he should be allowed entry given that the PED scandal has engulfed several of the game's top players in recent years.
Vote on this Story by clicking on the Icon