continued — "As a person of Dutch decent living here, (reconciliation) is big in my heart," he said. "I sort of tuned into these issues during my life, and when I saw the opportunity arise to participate in this trip, I wanted to be involved."
The Millers have also kayaked for more than 20 years and felt this event was well suited for them.
The flotilla launched from Rensselaer and made its first stop for lunch at Henry Hudson Park in Selkirk.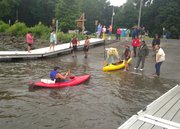 Kevin Nephew, a member of the Seneca Nation's Wolf Clan, helped organize the event on behalf of the Capital District. He said more than 200 people were signed up for the first leg of the journey, with more people joining in or dropping out along the way.
"The wampum belt was meant to reflect two rows of canoes sharing the river of life," said the Menands resident. "Always having mutual respect and understanding, but never crossing each other's path. This trip is meant to symbolize that agreement."
Participants weren't able to stay in two rows as they made their way down the Hudson because of the weather and the different pace of the paddlers, but the sentiment was there as canoes and kayaks trickled into the park on Sunday.
Nephew said his children were among those on the trip. Others participants from western parts of the state had started their trip days before, paddling additional miles to make their way to Albany.
The trip will eventually end in New York City on Aug. 9 with a delegation making its way to the United Nations. There they plan to reenact the 1613 handshake and hold a discussion panel as par of Indigenous Peoples Day.
"Our goal is we want to renew and reenergize and re-educate," said Nephew. "I think over the year we lost the simplistic message of sharing, understanding and respect for earth."
Vote on this Story by clicking on the Icon