GUILDERLAND — Guilderland Republicans have struggled over the years in the heavily Democratic community, but this year's slate of candidates has the party's chairman optimistic it's time for the tides to change.
The Guilderland Republican Committee endorsed candidates on Wednesday, May 29, and selected a mix of fresh faces and familiar names. Mark Grimm was selected to run for supervisor, after he'd already announced his candidacy in April.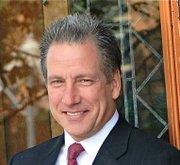 For Town Board, the committee choose newcomer Mark Livingston and current Albany County 29th District Legislator Lee Carman. Rounding out the ticket is Jason Wright for town clerk, Bryan Best for receiver of taxes, along with Chris Aldrich and Stephen DeNigris for town justice seats.
Town Republican Committee Chairman Matthew Nelligan said the party hasn't run a full slate of candidates since 2001. At least two potential candidates were interviewed for each position, according to Nelligan.
"I think it is going to be a very interesting election season … and I am looking forward to the campaign," Nelligan said. "The Republican party is gaining a lot of strength in Guilderland."
Grimm had committed to knocking on 10,000 doors. Nelligan said he has no reason to doubt Grimm's door-to-door campaign pledge.
"On all scores, I think (Grimm) is the right person for this particular campaign, because I think it is going to be bruiser," Nelligan said.
Grimm thanked Nelligan and the committee for supporting his candidacy and said his campaign is already well underway.
"I have been to more than 1,000 homes already and the enthusiasm for bringing fresh air to Guilderland Town Hall is quite exciting. It's wonderful to see Republicans are so united behind this message," Grimm said in a statement.
Grimm previously served one four-year term on the Town Board. In 2011, he decided not to seek a second term because he wanted to focus on his public relations business and other projects, along with spending more time with his family.
(Continued on Next Page)
Prev Next
Vote on this Story by clicking on the Icon