ALBANY COUNTY — As the days grow warmer, so too do the concerns of public safety officials who see residents biking around the Capital District.
"In certain towns, you see everyone wearing helmets. In other communities, you don't see them wearing helmets at all," Albany County District Attorney David Soares said. "I find that to be very troubling."
Albany County Sheriff Craig Apple said he sees "handfuls of kids" every day riding the streets without head protection. Faced with this issue, Soares and Apple joined Albany County Executive Dan McCoy, Watervliet Mayor Michael Manning and Congressman Paul Tonko Wednesday, May 29, at the Watervliet Dome to reiterate the importance of bicycle safety and teach local children some necessary signals for safe riding.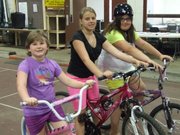 "There's a strong rumor around here that we're going to have summer," said Tonko on the dreary day. "And as summer comes, it means acting safe. What I like about (bike safety is) it teaches everyone how to be safe. Let's face it, knowledge is power. Power to have a good summer, power to have a safe summer, power to have a fun summer."
A handful of children gathered with the officials and then embarked on a course simulating the streets of Watervliet set up inside of the dome. They learned how to maneuver around cones, riding slowing to keep balance and, most importantly, were shown different signals to communicate with drivers on the road.
"The most important thing is that bicycles must obey stop signs and red lights, just like cars do, because a bicycle is a vehicle and all vehicles have to obey all the signs, signals and pavement markings that cars do," said Bill Van Alstyne, of the Albany County DPW Traffic Safety Education Programs.
Learning how to properly cross the road - stop, look left, right and left again - was another key factor explained to the kids.
(Continued on Next Page)
Prev Next
Vote on this Story by clicking on the Icon