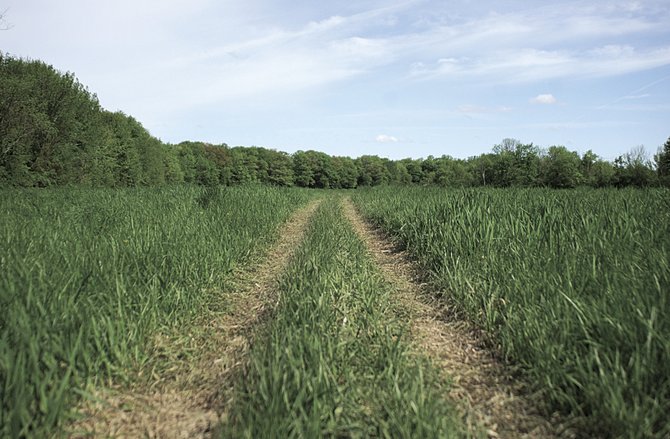 BETHLEHEM — The two arcing lines worn across an empty field in Selkirk stretch on seemingly forever. In reality, they run for 2,400 feet, nearly half a mile, or the entire length of the remote field surrounded by forest.
The lines in the grass have been worn in over time by ATVs – all terrain vehicles – that use the field not only as a place to do doughnuts and joyride, but to connect from roadways to the nearby city water line easement or power line corridors.
Mike Waldenmaier owns the land these tracks pass through. It's been in his family for more than 80 years, and in that time there has been all manner of unauthorized use of it. But recently, he said, things have gotten worse.
For him, the few miles from the suburban bustle is a good place to relax and reflect. That's why he spent many hours moving the stonework from an old bridge across the Vloman Kill to create a secluded spot to sit and a retaining wall to keep the banks from eroding.
That was about four decades ago. But recently, Waldenmaier slid down a hill to the banks of the tiny river to find the stones uprooted and tossed into the stream, his secluded hideaway destroyed. To him, this goes well beyond getting kicks from joyriding – it's a distinct disrespect for his land.
"It stops when we pursue it for a while … then it starts back up," he said.
More than a joyride
Vandalism aside, some might see ignoring one of the many posted signs around Waldenmaier's property as a victimless crime. But what might seem to be tracks on an empty field few will ever lay eyes on is a real problem for farmer Douglas LaGrange. The LaGrange Brothers Dairy Farm rents the use of two large fields from Waldenmaier and harvests the grass for haylage that will eventually be fed to the farm's cattle. Working with Cornell Cooperative Extension, LaGrange figured the impact of the two 2,400-foot long wheel ruts will be about $1,000 in labor and lost harvest.
(Continued on Next Page)
Prev Next
Vote on this Story by clicking on the Icon