continued — "There's a very valuable crop there even though it looks like an open field," said LaGrange, who also sits on the New Scotland Town Board. "It's a tremendous investment on our part, and it goes back to we need every blade of grass to recoup that investment."
Trespassing is not a new problem for farmers, though it can be an inconsistent one, said John Mead, president of the Albany County Farm Bureau. For some, there's nary a problem. For others, it happens so often crops and property are destroyed.
"One of the reasons I think we have so many problems in this area is there's a lack of farmers," Mead said. "A lot of the state is more rural, and I think it's more in areas like this that's close to villages."
The state Farm Bureau's public policy calls for more stringent penalties for those trespassing on private land using ATVs, and also suggests the state use a portion of ATV registration fees to develop public use off-roading trails on public land to discourage trespassing.
In some instances, it appears riders will cut across private lands in order to access open areas like power line or water line easements or railroad tracks. Entering these constitutes trespassing, as well, and the areas are typically posted and sometimes gated.
"We definitely do see it as a problem. It is something that we try to deter people from it as much as we can," said Patrick Stella, a spokesman for National Grid.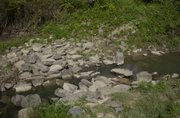 Stella said the maintenance done to allow crews access to the power lines creates open paths attractive to ATV users or snowmobilers, but the equipment makes them dangerous, too. He added in the eastern New York area, there are even issues pertaining to endangered species.
"A lot of our rights of way are home to the Karner Blue Butterfly, mainly because a lot of the things we do there promote low-growth plants," Stella said.
Vote on this Story by clicking on the Icon