CAPITAL DISTRICT — Extreme heat and waves of thunderstorms didn't stop close to 3,000 people from eating pierogis, dancing to Polka bands and learning about Polish culture this weekend.
Families and friends of different cultures from around the Capital District gathered at the Blessed Virgin Mary of Czestochowa Polish National Catholic Church on Old Maxwell Road in Latham for the 11th annual PolishFest Friday, May 31, through Sunday, June 2.
The church has about 100 families in its congregation, but Regina Pollack, one of the festival coordinators, said she knows there are many people in the community with Polish heritage. Sharing the Polish culture with the entire community has been a lasting mission for the festival through expansions and changes.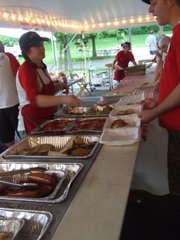 "I think it's important for cultures of every kind to experience what we have to offer one another. We're pleased to provide a venue to do that," Pollack said. "We saw a lot of the community here. A good mix of people."
The three-day event featured art, craft vendors, music, imported beer and Polish food inside and outside on the grounds of the church.
Although there were several hours left of the festival, by early Sunday afternoon the popular event was almost completely out of food.
"We have run out of just about everything except pierogis and golabki," said Zosia Dross, one of the festival's volunteers. "If we thought we were going to sell out of these things we would've made a lot more."
Dross has been a member of the church for 25 years and attends the festival each year, but said this is one of the first events at which the food almost sold out before it was over. She said oftentimes the weather is the main factor in the festival's turnout and food consumption, and with the more than 90-degree heat and scattered storms, she was surprised the food had sold out so quickly.
(Continued on Next Page)
Prev Next
Vote on this Story by clicking on the Icon