continued — Preparing food for the expected crowd takes more than two months, Dross said. Teams of volunteers cooked and baked, freezing some of the food before the festival. This year, the festival featured food including kapusta, a cabbage soup; kielbasa, an Eastern European sausage; and ribbon fries. Several desserts including Polish cheesecake, lemon poppy seed plum cake, apple strudel and crepes were popular favorites as well.
Polish pizza was an innovative creation at the festival this year, made with pita bread, mashed potatoes, caramelized onions and sauerkraut with either mushrooms, kielbasa and/or hot dogs.
"They're really going like crazy," Dross said.
Joe and Colleen Ferrari, owners of Ferrari's Italian Restaurant in Schenectady, came to the festival for the first time this year.
"(We came) to help support the church and listen to Polish music. We're Polish for the day," Joe Ferrari said. "The food, the music, the company, it's all great."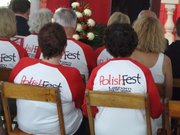 Several vendors the filled inside of the church, displaying different Eastern European goods including woodwork, jewelry, pottery and Polish soccer memorabilia. Oksana Dzyuba, originally from Ukraine, sold different wooden toys and kitchen décor representing Polish attributes. She said many details like bright colors are attributes of Polish culture.
"Very bright and cheerful colors, like how the flag is red and white," Dzyuba said. "Just the way people are, they're very cheerful."
New to the festival this year was beginning Friday night's opening ceremony with a trumpet player performing "The Trumpeter of Krakow," a Krakow signal bugle call dating back to the Middle Ages that now plays at noon each day on Polish National Radio. Local officials also joined the opening night for the first time. They including Congressman Paula Tonko, Albany County Executive Dan McCoy, Assemblyman Phil Steck and Town Supervisor Paula Mahan. Each spoke before the crowd about their relationship with Polish heritage.
Vote on this Story by clicking on the Icon