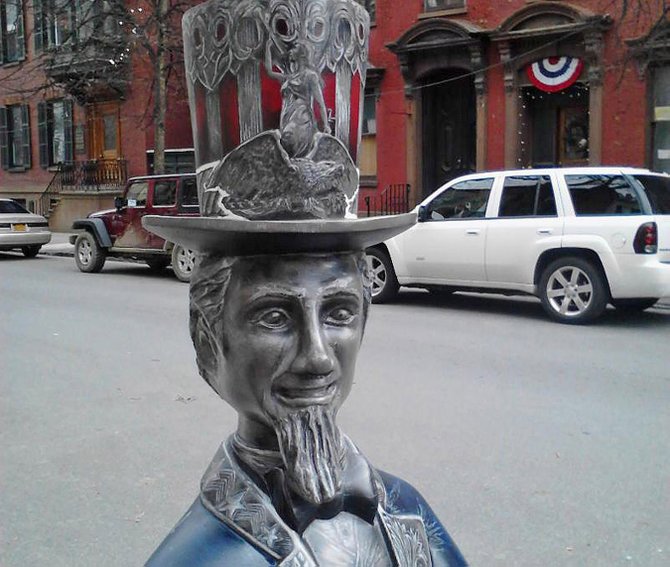 Draper said it is the connection with the City of Troy that Trojans like to celebrate.
"The fact that there really was a real person who had a very active community life, who may or may not have looked at all like the sort of iconic image of Uncle Sam which was really more the result of various cartoonists and artists who made him into that long-legged, striped pants, hat-wearing, red, white and blue symbol," she said.
Draper adds there is no documented image of Samuel Wilson.
"He lived at a time before photography," she said. "As far as we know there is no documented painted portrait of him."
"Trojans are all very proud of Uncle Sam's hometown," said Elizabeth Young, from the Downtown Troy Business Improvement District. That is why, she said, you may see Uncle Sam statues popping up all through Downtown Troy as you drive through the city.
In April, 30 statues were unveiled in honor of Uncle Sam. The fiberglass sculptures were designed by various artists from around the region.
"We have one made of fabric, one made with mosaic tiles and another with LED lights and Play-Doh cups turned upside down," Young said. "The community and businesses are excited about the statues. You often see them putting their arms around them and posing for pictures."
A parade is held every September in honor of Wilson, with a visit to Oakwood Cemetery in Northern Troy where Wilson is buried.
Young said it is education and bringing the history of Troy to life that is important.
On Saturday, June 8, Rensselaer County Historical Society will help the city celebrate Uncle Sam once again with Uncle Sam Community Day.
"There will be an exhibit open where we look at the man and the legend and how the symbol evolved," Draper said. "We have artifacts from his home, early maps and a record book from First Baptist Church where he was an active member."
Vote on this Story by clicking on the Icon