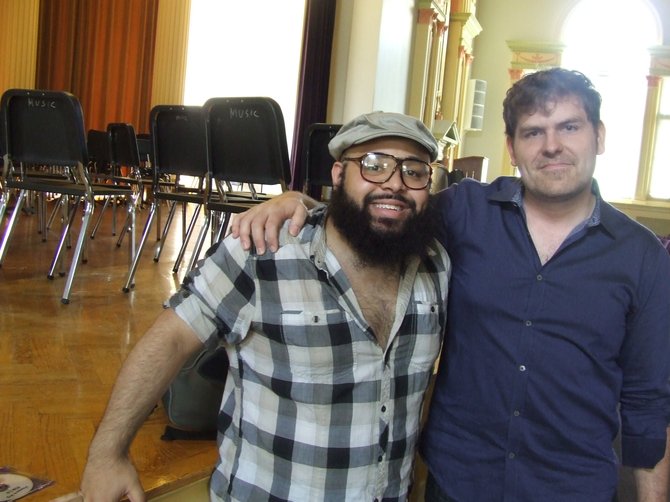 ALBANY COUNTY — It isn't always an easy task to get kids excited about literacy, but one local school recently teamed up with the Albany Symphony Orchestra to combine reading with the medium of music.
Fascinated with the idea of "American Idol," Music Director and Conductor of the ASO David Alan Miller contacted Hackett Middle School orchestra teacher Erik Johnson in February to discuss a Songwriter Idol-type project to meld reading and writing with music.
"Singing songs is fine, but creating songs is 1,000 times cooler and more exciting. The idea was to turn a bunch of seventh and eighth graders into songwriters in a very covert literacy-through-songwriting project," said Miller, a Slingerlands resident. "It's something the symphony and I really wanted to do."
After some discussion, the project transformed into something larger. Twelve middle school students were broken into groups to work with the ASO Resident Composer Ted Hearne to work collaboratively by creating their own songs for of the "Composer to Center Stage" program. The three songs were played in front of the students' peers Friday, May 31, who responded with a roaring applause.
The project, which was funded by The Andrew W. Mellon Foundation, targeted students who weren't a part of the music program at the school. Johnson asked faculty and staff to help handpick students they knew who were interested in music or songwriting.
"The focus was on kids who didn't do music, never got an opportunity to do music, but have these creative abilities," Johnson said. "I think a lot of kids have talent … there's a lot of untapped talent and creativity."
Once the 12 students were selected, they were separated into two groups who met with Hearne in the auditorium over the course of four months. Hearne set up a microphone in the middle of the stage and told the students to relax and just make raw sounds. At the second meeting, Hearne showed up with a rough track of the students' raw material from the first day, just to show them how what they sang or said could be arranged into a song.
(Continued on Next Page)
Prev Next
Vote on this Story by clicking on the Icon