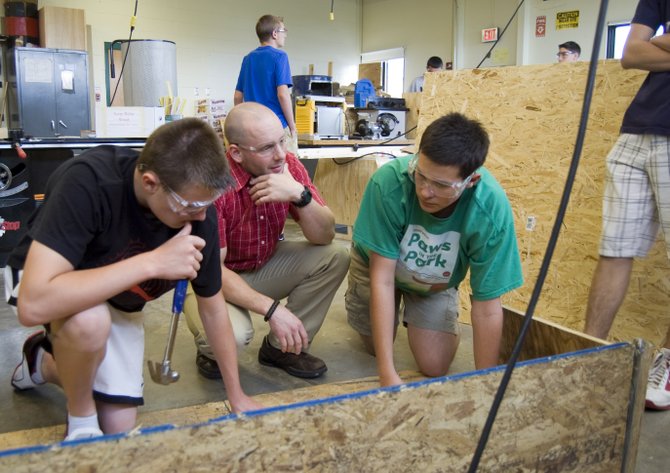 RAVENA — It seems everything is made out of recycled materials these days – greeting cards, water bottles, even clothing. But a boat?
That was the task handed to Ravena-Coeymans-Selkirk High School students in Scott Peck's Design and Drawing for Production course. Fifty-six students in three classes worked in groups of three to construct boats complete with oars or paddles capable of powering an operator 75 yards across Lawson Lake for the Recyclable Boat Regatta.
In the race, simply getting to the finish line is an accomplishment.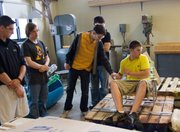 "The majority of it is recycled, but there are some students that had to go out and buy a few materials. The idea is to try to get as much recycled as possible – trash to treasure is the whole idea," Peck said.
Peck said the idea for the event came from Canajoharie High School, which has its own recycled boat race. When he was trying to think of something fun for students to do, he looked back to what activities or projects he enjoyed in school. Last year was the inaugural boat building project
"I did this boat regatta with two buddies and it was one of the best memories I had in high school," Peck said.
Some of the materials used to build the boats were water bottles, bleach containers, laundry detergent containers, plastic jugs, 55-gallon drums, old lumber or plywood and all of the nails, screws and other fasteners needed. The boats had to fit in an 8-foot by 5-foot footprint, but Peck did approve one group to have a 10-foot by 5-foot boat since they found some big aluminum pontoons.
"We talk about different boat designs and then they do some research to draw up their own design," Peck said. "The majority of the ones … are the raft idea, because it is one of the simpler ones."
(Continued on Next Page)
Prev Next
Vote on this Story by clicking on the Icon