continued — Now, membership includes people from all over the Capital District and beyond. The organization provides workshops taught by national and regional artists and helps exhibit work, including in Colonie Town Hall, the William K. Sanford Library and local galleries.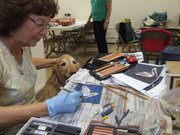 Woodward, originally from Rhode Island, joined the league in 1978 when she first moved to the area while looking for a job in advertising. She fell in love with the art world, decided to embrace being "artsy-fartsy" and become a professional painter. Now, she teaches classes and exhibits work in the Capital District and Rhode Island.
Woodward began dedicating much of her time to the league, spending 13 years on and off as president. The league accepts artists of any level and age, though Woodward said most of the members are of the "boomer generation."
"Part of our mission is to inspire people who think they can't draw anything but a stickman and to find out that they can," Woodward said.
Mission includes community
Woodward has been in charge of finding some of the national artists to teach workshops to the group. Many spend about a week in the area to do a public demonstration for the members. Some artists that have been featured include Judi Betts, Tom Lynch and Janet Walsh.
The league also gives back to the community. Every summer for the past 12 years, group members teach a weeklong summer art program at the Pruyn House to select students from North and South Colonie school district. This year's program, "Journey into Art Media," will run from June 24 through 28.
Each year, the league also gives out a scholarship to a graduating senior from both Colonie high schools who is going on to study fine arts or art education in college. One of the students who attended one of the first Pruyn House summer camps, Woodward said, just graduated college with a fine arts degree and was also one of the students to receive a scholarship from the league.
Vote on this Story by clicking on the Icon