continued — "It makes us feel great," Woodward said.
A place to call home?
There never seems to be a dull moment with the league itself, either. The group holds meetings on the first Tuesday of every month for art demonstrations. Over the past 39 years, members of the league have exhibited their work at several galleries in the Capital District and up until recently, the league owned two different members-only galleries: Local Color Art Gallery and Broadway Art Center. Both galleries were closed due for financial reasons. The league is also completely member-funded.
Currently, the league has more than 40 paintings hanging along the walls on the second floor of the Colonie Town Hall. The exhibit will run through June 28.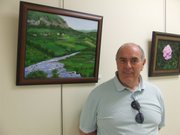 Jack Berkery has one of his paintings of a landscape in Ireland hanging in the exhibit. Berkery joined the group when it first started in 1978, but took a break from the league for 35 years to raise a family and career. He rejoined the league when he retired in 2011.
"After retirement, my wife told me, 'Don't just sit around and vegetate.' So I got back into the art world," he said. "It fills the time, it's relaxing and stress free."
Berkery added that he likes "schmoozing" with the people in the league and spending the time preparing for shows.
"They're really strange types of people, and I love that," Berkery said.
For a full listing of Colonie Art League's exhibits or to become a member, visit colonieartleague.com.
Vote on this Story by clicking on the Icon