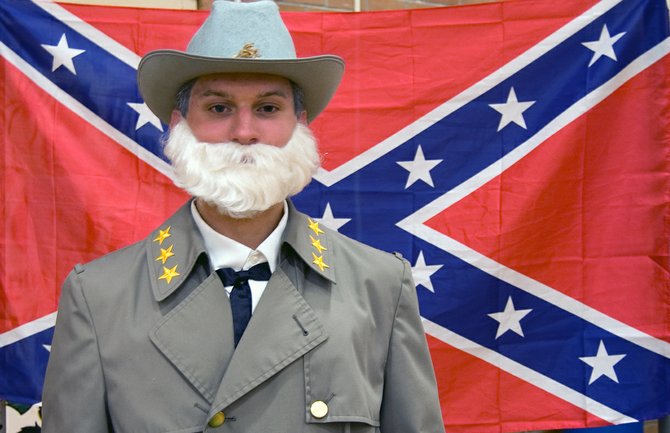 continued — Josh Shafer was nearby, portraying Robert E. Lee, with a confederate flag strung up behind him.
"The only reason (Lee) sided with the south was because Virginia was his home state," Shafer said. "He fought for what he believed in and I thought that was very noble of him."
Shafer said he learned Lee never actually supported slavery, which he was happy to discover.
"I don't agree with slavery, obviously," Shafer said.
Moving forward several years, Bonnie Parker and Clyde Barrow were present, portrayed by Caroline Shamlian and Vincent Simeone, perched up against a car with bags spilling out money. The car was actually a golf cart designed to look like an automobile from that time period. And the money wasn't real.
"We thought they were very interesting to American history, because they are America's most famous outlaws," Shamlian said, "so we thought it would be cool to learn more about them."
Shamlian learned Bonnie was never actually married to Clyde, but married Roy Thornton when she was 16 years old and never officially divorced him. Bonnie was buried with Thornton's wedding ring still on her finger, Shamlian said.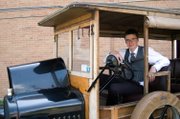 Simeone said both outlaws dropped out of high school at 16 years old. The first person Clyde killed was his jailmate, after the man had tired to sexually assault him, Simeone said.
While Bonnie and Clyde drew a lot of attention at the event, outside was maybe the most popular historical figure. This was probably because Henry Ford came along with his car – the Model T.
"Henry Ford really prompted the start of modern industrial America and that is a topic I'm interested in," said David Lasselle, who portrayed Ford. "I also like cars … I've always like old cars."
Lasselle said he knows someone who owns several Model T cars and he drove him to school in it. Simply starting the car is a rather laborious process, and driving it isn't simple, either.
"It is getting inspected today, actually," he said.
One thing Lasselle didn't know before doing the project was that Ford was "a bit of a Nazi," because he had funded the Third Reich. The Model T was also the best selling car in America until Volkswagen's Beetle outsold it, which also surprised him.
Vote on this Story by clicking on the Icon