BETHLEHEM — More than a year after the Bethlehem YMCA broke ground on a new lunch pavilion to accommodate the organization's summer campers, the structure is complete.
On Thursday, June 6, staff of the Bethlehem YMCA gathered, along with members of the community and benefactors of the pavilion, to celebrate the project finally becoming a reality. Fundraising and planning had begun nearly five years prior.
"This pavilion represents our commitment to the Bethlehem community and the hundreds of children who participate in our camp each year," said Capital District YMCA President and CEO David Brown at the dedication ceremony.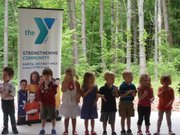 The 3,200-square-foot pavilion includes an eating area, space for activities, a food service area, bathrooms and a storage room. A walking path and a utility road from the parking lot will be built in the future. The building also has water, sewer and electrical connections.
The pavilion was completed before camp began in June last year at the 14-acre property located at 900 Delaware Ave. About 150 campers attend the Bethlehem YMCA summer camp per week, and it runs for nine weeks.
Bethlehem YMCA Director Derek Martin said volunteers were doing finishing touches, like the construction of picnic tables, just three days before campers arrived.
"In this case, many hands made for light work, but it certainly didn't make for light anxiety on my part," said Martin.
The entire project cost around $490,000. More than $250,000 was obtained through grants, with the rest coming from donations. Sen. Neil Breslin, a Bethlehem resident, secured the largest portion of the funds needed. The pavilion was dedicated in his name.
"I'm just so thankful to be even a small part of this," said Breslin. "I look at the list of folks who've given their own money and their own sweat and efforts to make this a reality, and the fact over 350 kids will get use of it over the summer, it brings me joy."
(Continued on Next Page)
Prev Next
Vote on this Story by clicking on the Icon