continued — Large donations came from the Slingerland family through the Slingerland Foundation, Christopher and Christine Edwards, Woodward Connor Gillies & Seleman Architechs and the Standish Foundation.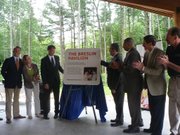 "Just seeing the kids faces and the fun they're having is what really hits home about being able to provide this type of facility," said Don Slingerland. "Not just the pavilion, but all of the Y."
Martin said the pavilion is part of the Bethlehem branch's capital campaign. The entire plan also includes the installation of activity fields, a welcome center and a playground. The projects total an additional $150,000. Those plans will be completed as funds become available.
The pavilion will be used exclusively for YMCA members and those who attend camp, but corporations and the community can rent it out for local functions during the off season. Martin also said some exercise classes might use the pavilion on a regular basis for things like yoga instruction.
"When we built this pavilion, the vision was first and foremost for the kids, but it has so many more uses," said Martin, calling the pavilion a lasting legacy to the Y's commitment to Bethlehem. "We do these things to engage our community, and to engage our members."
Vote on this Story by clicking on the Icon