continued — There are now 34 juniors and seniors taking an environmental sciences elective at the school. Teacher Erin Roberts said her students are learning to analyze the various components that make up soil to determine which are necessary to be present when growing certain types of plants. They are also learning about germination, hydroponics and how plants reproduce.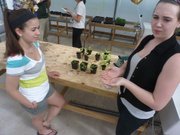 "We want the students to really get as much hands-on experience as possible," said Roberts, who said she hopes the lessons her students learn now could someday help them in their future careers. "We want to be able to provide this experience as a new opportunity for kids who haven't been able to spend time around a greenhouse."
Young, 17, said she already knows what she learned will help her in her future studies. One of her favorite lessons so far was a soil study about how organic fertilizers affect growth when compared to commercial fertilizer.
"It all has to do with the pH balance and what nutrients are included," she said. "A slight difference depending on the plant can change everything."
Senior Alina Dottino, 18, said she plans on majoring in environmental sciences in college.
"I've always had an interest in helping the world around me and I think this is a great place to start my education," she said.
Young said she hopes future students will look into taking the environmental science class because the greenhouse provides a unique opportunity for those even with a small interest in gardening or plant life.
"I think involvement will grow bit by bit," she said. "I know I've had fun."
Vote on this Story by clicking on the Icon