continued — Gallo said one equipment purchase being eyed is a "funbrella," which is basically a huge umbrella that provides shade for several people.
"It depends on how much money we can raise, but that is one of the things we are targeting," Gallo said. "You can fit families underneath it."
Gallo said the town's pools have been a "centerpiece" of the summer for families over the years. There are even some vintage photos people can look at showing the facility's history.
Splash islands replaced the sand pits more than five years ago. Gallo said they "did a number on the pool filters," because kids would be covered in sand and then jump in the pool. Splash islands now shoot, spray and dump water on kids.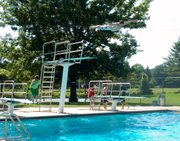 "It is not like the beach where you can just go wash the sand off, the sand actually went somewhere into our filtration system," he said.
The Elm Avenue Pool Complex building has essentially remained unchanged for 40 years, with repairs and slight renovations made.
James Knox, of Delmar, was with his two daughters and son sitting by the band after getting out of the pool. Knox said he comes to the pool every year with his kids.
"It is just a great place to come and take the kids and see people from town," Knox said.
Steve Phelps, was standing in the pool as his 3-and-a-half-year-old son, Will, jumped from the pool's edge into his arms. Phelps said coming to the pool makes for a break from everything around him.
"My wife made me stop doing yard work," he said and laughed. "I left the smartphone at home and the whole nine."
All the summer's events can be viewed on the pool complex's page on the town's website at www.townofbethlehem.org.
Vote on this Story by clicking on the Icon