COLONIE — After attending Siena College for only one semester and then becoming a hairdresser for a year, Danielle Martinez told her family news they never expected to hear from her.
"One day she just came home and said, 'Dad, I joined the Navy.' Out of nowhere! I said, 'What? Are you nuts?'" her father, Chris, said. "She just said, 'I want to see the world, I want to travel."
While both sides of her family combined contain more than 15 veterans of the Navy, Air Force and Marines, all of them are men. None of them ever wound up crossing the equator, either. But this past year, Danielle became the first to do both.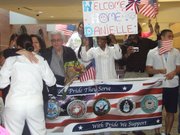 "It's a big lifestyle change. I went from being a hairdresser in New York to a sailor in California," Danielle said at the Albany International Airport Thursday, June 6.
Returning home from the sea for a short visit until June 12, Danielle was shocked to find her extended family, friends and even newscasters waiting for her in the airport terminal. Her mother, Joyce, wanted to surprise her daughter upon her return home.
"I never really see (TVs) greeting the women (officers), so I decided to call and acknowledge my daughter," Joyce said.
Though always supportive of her decision, Joyce didn't understand when Danielle first came to her with news she had enlisted for four years.
"I was trying to convince her otherwise. I got so upset, but I couldn't tell her otherwise. She was 21," Joyce said.
Her father, who served in the Navy for two years, was also very surprised. The youngest of three children, Danielle always loved styling hair and started hairdressing when she was at Colonie Central High School. After graduating in 2008, she enrolled at Siena College to study business, but decided it wasn't for her and instead attended The Orlo School of Hair Design and Cosmetology in Albany. After a year of school, she got a job at a Progressions and her father even made a salon in their home for the clientele to come to her.
(Continued on Next Page)
Prev Next
Vote on this Story by clicking on the Icon