MENANDS — The Menands School District Board of Education has selected Maureen A. Long as superintendent after an eight-month search.
Long was appointed by the board on Tuesday, May 28, and will begin her three-year contract with a starting salary of $130,000 on July 22, when current Superintendent Kathy Meany retires.
Meany will be finishing up her sixth year as head of the district and 35 years in public education. She announced her retirement last summer and a formal process to find a new superintendent began last October. Several interviews were conducted by a committee that includes business owners, parents, seniors, students, faculty and community members, which narrowed down 12 interviews to five semi-finalists.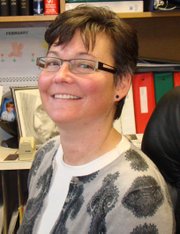 The five were then interviewed by two community groups in March, who brought their opinions to the Board of Education and then brought the search down to three candidates. Among the remaining three, Long was chosen as the best fit for the district.
"With more than 20-plus years of experience in the field of education, we believe Maureen will be a great asset to the community, and an excellent academic leader as we move forward to meet the demands of the 21st century," Board of Education President Jeff Masline said in a statement.
Long is currently in her third year as the Scotia-Glenville Central School District's director of curriculum and instruction and will finish up in her position before becoming superintendent in July.
"I'm excited about the opportunity," Long said.
Long received her doctorate in educational leadership from the Sage Graduate School, earned her master's degree in education at the Sage Graduate School and her bachelor's degree in mathematics from the College of Saint Rose. She has worked as the interim superintendent of the North Greenbush Common School District, as well as the chief of curriculum, instruction and assessment for the Coxsackie-Athens Central School District. Long also spent eight years at the Wynantskill Union Free School District, three years as the CSE chairperson for the North Greenbush Common School District, six years as a special education teacher/secondary CSE chairperson in Troy and four years as a middle school math teacher in Gloversville.
(Continued on Next Page)
Prev Next
Vote on this Story by clicking on the Icon