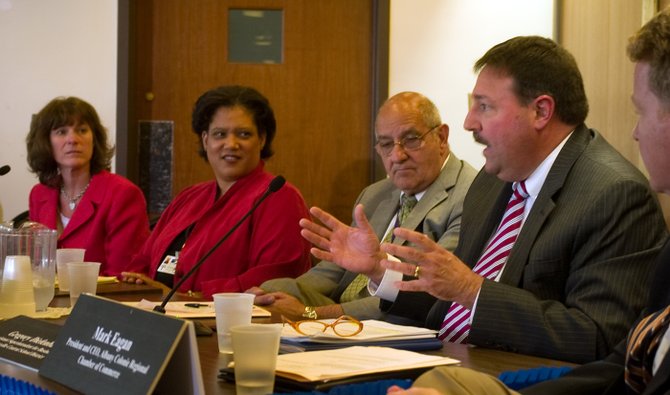 continued — "I worry about the self esteem, not just the stress on children," Fahy said, "especially when I don't know a single child … in some of our highest performing schools that finished some tests that were given this spring."
Winters recalled the second day of state testing on English language arts when he hit his "breaking point" after becoming increasingly frustrated.
"I wrote comments all over my test hoping that somebody would see them. After I realized no one would see them I wrote a letter to the commissioner of education and before I even knew about this forum," Winters said. "I am still looking forward to hearing back from him."
He said the tests "have done harm" and have added "real stress" for students.
Editor's note
Did you miss our previous two-part series about the Common Core Learning Standards?
The first story, Cracking the Common Core, focuses on the implementation and policy behind the change. The second story, Stress test, focuses on the what it means at the classroom level.
Guilderland Central School District Superintendent Marie Wiles said her main request to the State Education Department is to "please slow down."
Since the testing on the Common Core has already been done, Wiles said student achievement should be reviewed to determine how tests should be designed for next school year.
Assemblyman James Tedisco, R-Glenville, said he believes there is not enough autonomy for districts when it comes to implementation.
"I think the money would be better and well spent by the school boards, by the administrators," Tedisco said. "The differences are widespread and the funding needs are different."
Wiles said Tedisco's concept is an improvement, because reforms lean towards "one size fits all." She said the state could define goals while giving districts more ability to determine what is best for its community.
Vote on this Story by clicking on the Icon