continued — Tears turned to laughter as former teachers Carol Smith and Diane Kvan told stories of Whitney's good nature.
Kvan recalled she took a personal day one year to go skiing, but booked her substitute for the wrong day. Kvan's daughter was attending Elsmere at the time, and when the young girl was asked over the loud speaker where her mother was, she replied that her mother was skiing. When Kvan picked her daughter up from school, she asked who filled in as her substitute.
"I almost died," said Kvan. "I went running into Dorothy's office and she's just sitting there with a smile on her face. I thought, well for the rest of my time here, Carol and I might be able to get into a lot of mischief."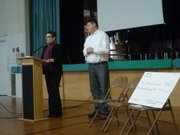 The pair also re-performed a skit "The Secret Interviews of the Spotlight," which was a spoof article written by the staff and performed with the help of a PowerPoint presentation at Whitney's retirement in 2003.
During the memorial, a check for $3,022 was presented in behalf of the Dorothy Whitney Fund to the Bethlehem Community Fund. Friend and colleague Shari Piper said it was important to Whitney that no student go without the supplies they needed to learn
Whitney's daughter, Victoria Miller, and her son, Michael Whitney, were in attendance, along with some of her grandchildren. They thanked everyone who attended and said how happy their mother would be to be remembered.
"Mom had many places that she considered home, and Elsmere was 'Home A,'" said Miller. "And us kids were OK with that, because we knew that she was here doing what she loved – helping children."
Whitney's colleagues ended the memorial with a song and said the longtime principal's leadership truly made Elsmere School "a place to love and grow."
To donate to the Dorothy Whitney Fund, a special endowment set up within the Bethlehem Community Fund, mail a check payable to the Bethlehem Community Fund to Elsmere School, 247 Delaware Avenue, Delmar NY 12054, attention Cathy Fredette.
Vote on this Story by clicking on the Icon