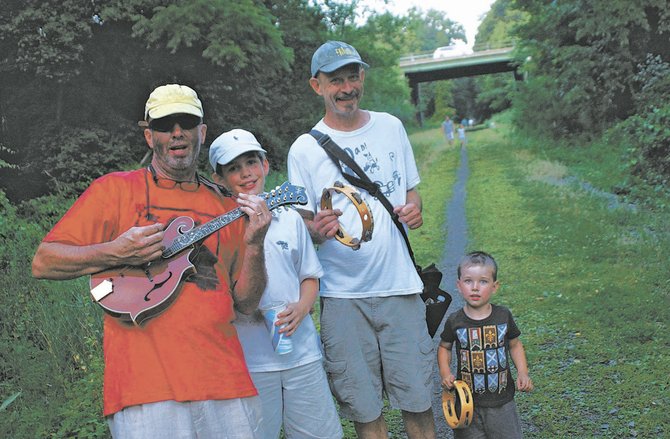 BETHLEHEM — Longer days, good friends, ice cream and fireflies... summer has begun in the Capital District, and The Mohawk-Hudson Land Conservancy is ready to make it official with its second Fairy Tales and Fireflies event on Thursday, June 20.
The evening is a summer celebration that takes place on a section of the Helderberg-Hudson Rail Trail in the Town of Bethlehem.
Kathy McCarthy, a Friends of the Rail Trail volunteer, said the event revolves around marking the beginning of summer, gathering with friends and taking in the beauty of the trail.
The idea of a summer festival came to McCarthy while walking on the trail one winter night.
"I was out walking on New Year's Eve," McCarthy said. "It was a very warm New Year's Eve and it was kind of misty, and I thought, 'Wow, you could have a really fun celebration here.'"
McCarthy said the Friends of the Rail Trail committee quickly agreed, and the first event drew about 300 people.
"It was so successful," McCarthy said. "We were really amazed at how many people came out and participated."
The event takes place on the section of the trail that runs between the intersection of Adams Street and Hudson Avenue and the Slingerlands Firehouse at the intersection of Kenwood and New Scotland avenues in Delmar.
"It's something where you can leave your house, walk a few steps and be on the trail and enjoying the fair," said Lea Montalto-Rook, development director at the Mohawk-Hudson Land Conservancy. "What we really want is for people to come out and enjoy themselves, not have to spend a lot of money and enjoy this great natural resource we have."
McCarthy said there will be a different activity every few feet along the trail.
"We will have children's crafts, we will have refreshments for sale, we have a few musicians, we have a group of Morris dancers and some Irish dancers, we have animal displays, Empire Service dogs, Critter Patrol, Ford's Falconry and a lot of local businesses have jumped in as well," she said. "It will be a combination of walking and enjoying the beauty of the trails and being able to stop and do something or watch something."
(Continued on Next Page)
Prev Next
Vote on this Story by clicking on the Icon