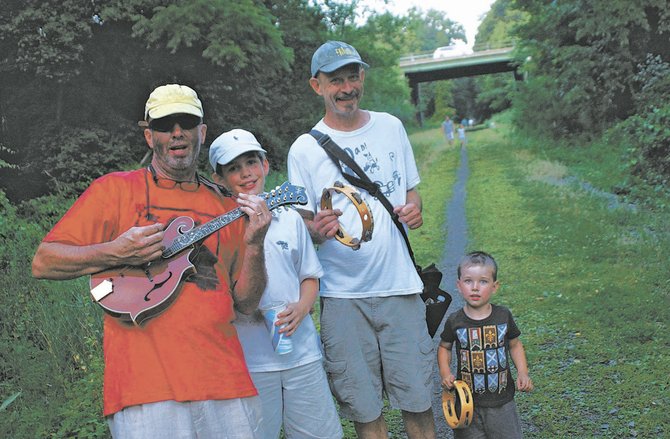 continued — Maps will be available, and children who have the maps stamped along the trail will receive coupons for Stewart's ice cream.
McCarthy said the goal is to have something for people of all ages.
"We really wanted it to be something that everyone can enjoy," she said. "You can walk along, stop, listen to some music, watch people dance or just enjoy the scenery."
McCarthy said there is something magical about summertime on the trail.
"If you are there after dark, there are tons of fireflies," she said. "It adds to the magic."
Montalto-Rook said the secondary goal is to increase awareness of the Rail Trail as a recreational resource for locals and as a destination spot for regional visitors.
Once a busy railroad for travels to and from the country towns of Delmar, Slingerlands, Elsmere and Voorheesville and the bustling City of Albany, passenger service ended in the 1930s. The rails were removed in 2004, and in 2010 Albany County purchased the 9.1-mile railway to create the Helderberg-Hudson Rail Trail for recreational use. The portion of the trail from Delmar to Slingerlands opened in 2011.
Montalto-Rook hopes the event is the beginning of a tradition for years to come.
"We want to make it a recurring annual event that brings locals and regional guests to a local summer solstice fair where there are tables and displays from local businesses, local artists, animal exhibits, crafts for children and food where everyone can come out, get a little bit of exercise and enjoy the end of the school year and the beginning of summer and celebrate," she said.
The free Fairy Tales and Fireflies event will take place on Thursday, June 20, from 6:30 to 9:30 p.m. Parking is available at both ends of the trail, and in the municipal parking lot near Delmar's Four Corners. For more information, visit mohawkhudson.org.
Vote on this Story by clicking on the Icon