COLONIE — At 60 years old, Meghi Graziano began worrying about the upkeep of her home.
Her husband had grown older and couldn't help to maintain it anymore. While she was still strong enough to do tasks like mowing the lawn or caring for the garden, harder jobs like fixing the roof were out of the question. She needed someone she could trust to come to her home and help her.
Graziano quickly learned about Umbrella of Colonie, which is part of Colonie Senior Service Centers, Inc. Through the program, seniors help other seniors with tasks around the house. Now at 65, Graziano has used the program yearly and doesn't plan to ever stop.
"They've very helpful, very kind, good people. Only God knows what I'd do (without it). I have no idea," Graziano said. "I'm very grateful for it. It's a blessing."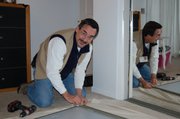 Graziano and her husband joined more than 200 other guests Wednesday, June 12, at the Beltrone Living Center to celebrate Umbrella of Colonie's fifth anniversary. The celebration included cake and awards to some of the hardworking seniors who have dedicated their time with Umbrella of Colonie.
The home maintenance program helps 600 seniors annually, with a total of more than 5,000 jobs completed.
Bringing the home maintenance program to Colonie began when Ed Neary, executive director of CSSC, was looking for a way to help seniors keep their independence and keep living at home. After researching programs around the country, he found Schenectady's Umbrella of the Capital District.
"They had this program for about 15 years. It seemed to be the right program for us," Neary said.
Neary said he discussed the idea of replicating the program in Colonie with the Schenectady program director, Ron Byrne. Byrne navigated the way and in short five years, Neary said the program has been "a huge success."
(Continued on Next Page)
Prev Next
Vote on this Story by clicking on the Icon