continued — Because the home had survived more than two centuries of use, neglect, weather and old-fashioned aging, Lepera said the restoration was "closely watched" by the New York State Office of Historic Preservation.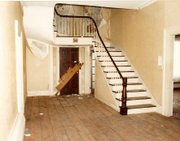 With the back of the house's brick wall, Lepera said they salvaged as much of the original brick as they could, buying new ones that resembled the old ones if necessary. When it came to the exterior of the house, Lepera said they washed the home with "gentle soap and water," which revealed a part of the window shade that had been painted white was actually a brown decorative stone.
"That brown stone doesn't want to be painted," Lepera said, and renovators let it be when they repainted the whole house.
The interior was a much bigger mess. Most of the wallpaper and plaster had peeled off. None of the wallpaper could be saved, and it was difficult to tell what may have been the original wallpaper and what had been changed over the years.
"The floor was interesting. We took virtually every floor board out," Lepera said.
The house's 10 fireplaces were mostly intact and original. Lepera said the biggest – and best – surprise was finding the original bread and beehive oven in the basement.
"This is my favorite. This is really a find because there are very few examples in this region," Lepera said. "You will not find that very often."
While the house hasn't had another makeover since the early '80s, Lepera said maintenance still needs to be done often to keep the house in good shape. Friends of Pruyn House Curator Diane Morgan said work on the interior and exterior of the house is ongoing.
"I think it just requires constant observation, care and attention," Morgan said.
Friends of the Pruyn House spends about $15,000 on the house every year, and the Town of Colonie matches that.
Vote on this Story by clicking on the Icon