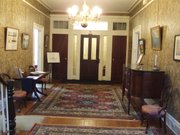 continued — Morgan said lately, she's seen some new cracks in the parlor wall and recently saw one of the outdoor shutters hanging off. The paint, too, is constantly peeling, she said. Over the years maintenance has included replacing the roof again, chimney repairs almost every year, repairing and staining the shutters and touching up the paint.
Last month, the white-picket fence that outlines the front of the house was taken to the town landfill when it completely rotted out. Morgan said they are working on replacing the fence. Other buildings on the land, mainly the Buhrmaster Barn and the schoolhouse, are in need of repairs and painting. Morgan said the Friends recently spent $9,000 to fix one of the barn's walls.
"We do feel it's worth all of the money we're spending … tourists come to visit us. It's a lovely setting for cultural, educational and social events. It's part of our community," Morgan said.
Vote on this Story by clicking on the Icon