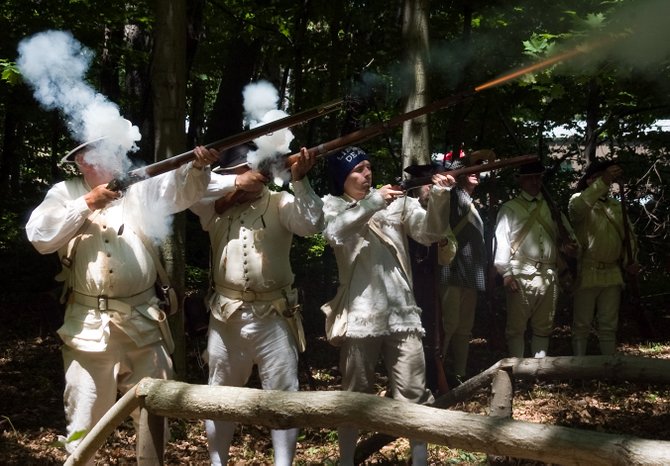 VOORHEESVILLE — The shot heard 'round the world echoed through Helderberg Mountains this past weekend, as gun advocates rallied for a repeal of the SAFE Act.
The second day of Freedom Fest '13 on Saturday, June 15, focused on the Second Amendment and featured several speakers advocating for the SAFE Act to be overturned, or at the least revised. Reenactors also marched down a trail into the nearby woods to bring the start of the Revolutionary War back to life and honor sacrifices made to ensure freedom. The event was held at Camp Pinnacle, a Christian camp and conference center in Voorheesville.
The real action was onstage, though, as speakers railed against New York's new gun control law, the Secure Ammunition and Firearms Enforcement (SAFE) Act.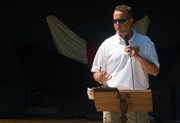 Albany County Sheriff Craig Apple spoke at the event to a responsive crowd of about 150 and said people's rights are being infringed.
"If you are even rubbing against our freedoms, we have to stand up, we have to protect ourselves and we need to fight for our rights," Apple said. "Every day they are touching on our freedoms a little bit more and it is time that we stand up and say, 'enough is enough.'"
Apple urged people to pay attention to their representatives and be aware of how they vote on issues. He also stressed people need to go out and vote in the first place.
"We need to pay attention to what is going on in our legislature, the laws that are being passed, the rights that are slightly being encroached upon," he said.
Apple again stressed the SAFE Act doesn't address local issues, because illegal handguns are the main problem. The law, he said, only goes after the lawful gun owner.
Camp Pinnacle Director Pastor Chris Gerardi said the government is trying to reduce the rights people have, but people's rights "come from God, not man and not government."
(Continued on Next Page)
Prev Next
Vote on this Story by clicking on the Icon