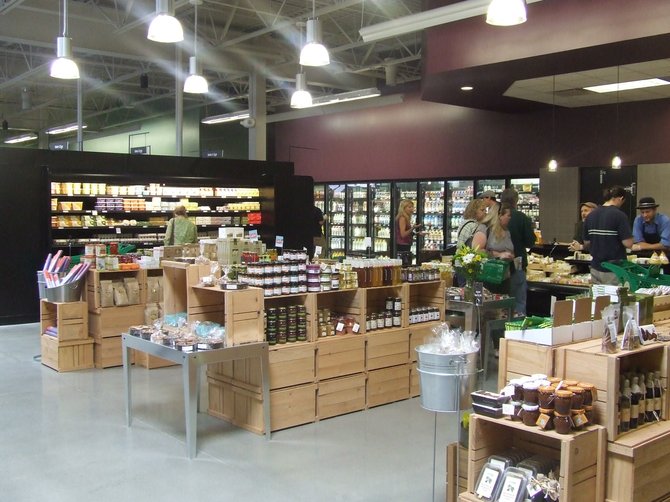 continued — Looking at the bulk section, Alex Duncan, a customer who recently moved to Niskayuna from Atlanta, said he heard of the store on the Internet and was intrigued.
"It's been a little difficult finding stores like this here," Duncan said.
He said he's mostly attracted to the "unusual things" you can't find in other stores, like a variety of beans and nuts.
"The variety is unbelievable," he said.
The popular cheese department has local and international cheeses, and Bartels said there are cheese samplings "constantly, all day."
Knowing products are locally-sourced, Bartels said, has always been important to the co-op's customers. Keeping that in mind, photos of local farmers, including Stony Brook Farm in Schoharie and Wrong Direction Farm in Canajoharie, are placed above the meat section to "put a face on the other end of the supply chain." The new store also has a smoke room for meat.
For the first time, the co-op has a spot for fresh fish, which Bartels said wasn't possible due to space limitations in the older store.
Other newer features include a largely expanded to-go section, like a fresh salad bar, pizza and sandwiches to order, as well as a larger bakery section. The new location has a first-ever coffee and juice bar with organic smoothies.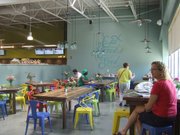 Adjacent to the coffee bar is a comfortable seating area created from locally refurbished material, including farm tables by Silver Fox Salvages in Albany made from beams removed from an old army depot in Rotterdam.
"When people come and sit in our café, they're touching a bit of local history," Bartels said.
Outdoor seating will be available, as well.
One of the store's biggest upgrades is to offer participatory classes on health and sustainability right in the co-op. Classes range from "Cooking Grass-fed Meat" to "DIY Yogurt Making" and are free unless materials are needed.
Vote on this Story by clicking on the Icon