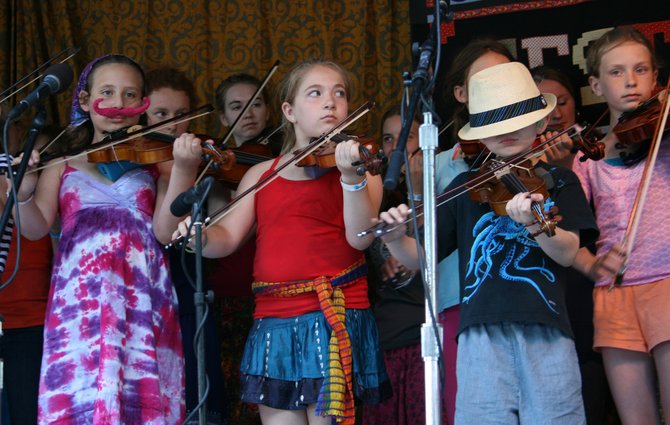 continued — Typically, around 3,000 people attend the festival, with peak attendance topping out around 4,000 in recent history. Mock said people wouldn't feel "overwhelmed" going to the "nice little festival."
But what really sets Old Songs apart is interactivity. Through workshops, singalongs and dances, the audience gets a chance to be a part of the festival and not just spectate.
Lea Gilmore, who is performing Sunday, will also lead a series of Gospel Choir sessions that culminate with the attendees performing a few songs at the festival. She, along with other performers, is also a leading a Gospel Sing. This will be Gilmore's third time at the festival, which she said is an "amazing gathering of musicians and talent." Gilmore said the festival is above all simply just fun.
"I'm looking forward to just being surrounded by so much great music from all around the world. The audience is so appreciative of the music," Gilmore said. "They come to this festival to hear all different types of music … there is something for everyone here."
Gilmore is a classically trained pianist and an award-winning blues, gospel and jazz singer. She has also appeared in more than 45 musical and dramatic theater productions.
One fond festival memory she has is watching the gospel choir perform on stage even as the electricity went out.
"There was so much joy, so much pride and I will never forget that feeling of oneness and unity that was created during that moment," she said. "It was just a magical feeling. We often hear so much bad news, so to have a weekend of just joy from different cultures is like a utopia."
Gilmore also remembers an older woman coming up to her after the performance and thanking her for "changing her life." The woman told Gilmore that she could now express herself and not be ashamed to do it.
"We are doing a lot more than … just singing some songs," Gilmore said.
Tickets are now on sale, with discounts offered for seniors and students. Adult tickets for Friday and Sunday are $40. Saturday tickets are $70, but a $30 refund is offered to anyone who leaves before 7 p.m. If you are planning to attend all three days, all-festival tickets can be purchased at a discounted price. Children 12 years old or younger get in for free.
For full information on performances, workshops, ticket information and more about Old Songs Festival, visit www.oldsongs.org/festival.
Vote on this Story by clicking on the Icon