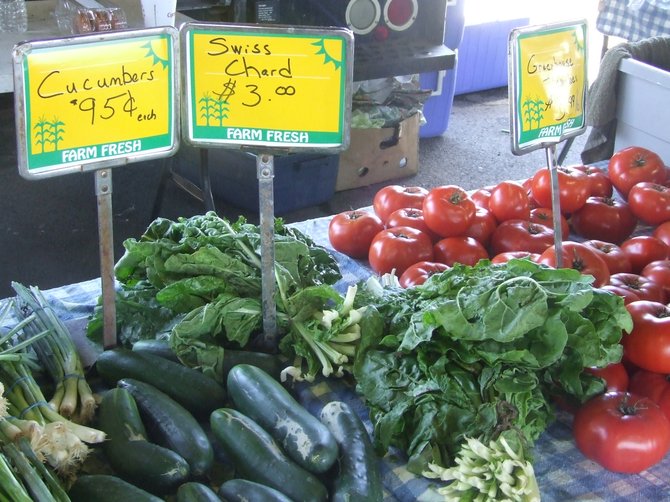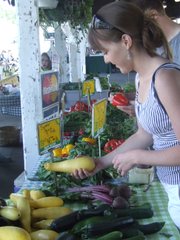 continued — There aren't just edibles, either. Lisa Osborne-NeJame sells handmade jewelry and Terry Wescott offers one-of-a-kind log cabin bird houses, for example.
The small retail market attracted a handful of customers on Saturday, June 15, but Douty said the market sees roughly 200 customers a week. At special events, like the Strawberry Festival on Saturday, June 22, closer to 400 people turn out.
Lansing's Farm Market and Greenhouse, based on Lishakill Road in Niskayuna, attends both the wholesale and retail markets, offering products including lettuce, flowers and herbs. They also specialize in baked goods, including zucchini bread. By noon on Saturday, June 15, Lansing's had sold out of their strawberries at the retail market.
"And people love the apple cider donuts. People go crazy over that," John Peterson, of Lansing's, said.
Retail market first timer Rocco Parvana, of Guilderland, came with Eileen Gogan to the market to buy some herbs and greens.
"I saw the commercial for it last night on TV. I like buying local," Parvana said.
Already a tough season
With the 2013 season well underway, some farmers are already struggling to contend with the year's unpredictable weather, which has included heavy downpours in the last few weeks.
Herman Krug, 74, of Krug's Brookside Farm in East Schodack, has been coming to the market since 1944. On Saturday, June 22, he held a cup of coffee and looked forlornly at the small offering of produce he was able to bring to market that week.
"The plants are drowning. Crops are too wet. The strawberries, tomatoes, are hurting very bad," Krug said. "It is early enough that it can recover."
Recent sunny weather bodes well for that possibility. Hans, who has been visiting the market for the last 25 years, said he's not worried either, especially after the farmers recovered from storms like Tropical Storm Irene.
Vote on this Story by clicking on the Icon