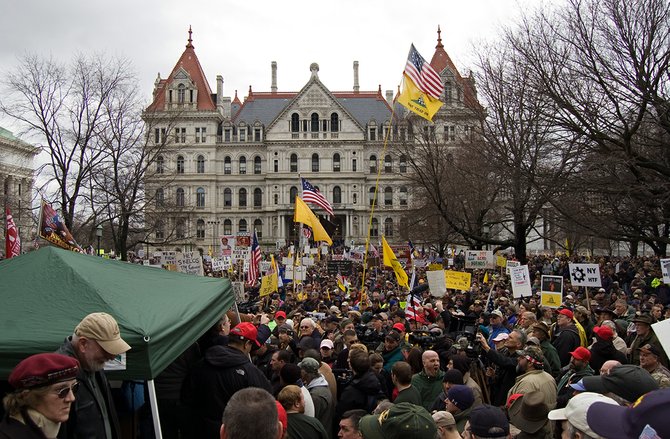 continued — "Why would they want to disarm us unilaterally when we are not doing anything?" Kellogg said. "Why are they taking this preemptive action towards us? It is so demeaning and disturbing and it has awoken the constitution sleeping in people who take freedom for granted."
Thomas White, a member of Sheet Metal Workers Local 83 in Albany, said protecting his rights is important and he is worried about "what's next" for legislators.
"If it meant missing a couple hours of work to throw my two cents in that's why I am here," said White, a 49-year-old Saratoga County resident. "There are a lot of other people that wanted to be here but couldn't make it and I decided that this is more important than a couple hours of work."
White, a hunter and competitive shooter, said he owns AR-15s and other semi-automatic guns that fall under the ban.
"Probably the most important thing to me would be home security," White said of his firearms.
Senator Greg Ball, R-Patterson, garnered an enthusiastic response from the crowd as he stepped out from behind the podium and criticized Cuomo.
"Gov. Cuomo … you are turning World War II vets, Vietnam vets and folks returning from Iraq and Afghanistan … into criminals. Shame on you," Ball said. "This governor's focus wasn't saving lives. It was protecting his life, his political life, and the political life of a governor who wants to be president."
Ball said a "vast majority" of state legislators would rather turn people like the protesters into criminals than go after the "real criminals." He said the protesters weren't simply fighting for their rights, but future generations.
"This is the civil rights fight of our time," Ball said. "If we lose this fight, we will have lost this country. We have got to stand together and you got to make sure that we work with our neighbors to wake them up to this reality."
Vote on this Story by clicking on the Icon