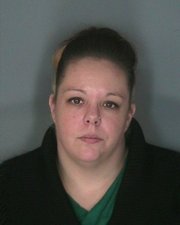 COLONIE — A Rome woman is joining her boyfriend in prison after allegedly trying to mail him a controlled substance, according to police.
The Albany County Sheriff's Office said Shannon J. Formikell, 36, of 770 Lawrence St., allegedly sent suboxone to her boyfriend imprisoned at the Albany County Correctional Facility. Corrections staff allegedly found the suboxone, which is a controlled substance used to treat opiate addiction, affixed to an envelope behind the postage.
Police said Formikell admitted her boyfriend had allegedly asked her to mail suboxone to him.
Formikell was arrested and charged with felony attempted criminal sale of a controlled substance in the fifth degree and the misdemeanor charges of promoting prison contraband in the second degree and conspiracy in the sixth degree.
Formikell was arraigned in the Town of Colonie Justice Court by Judge Norman Massry and remanded to the Albany County Correctional Facility in lieu of $10,000 bail.
Police said her boyfriend is expected be charged with a misdemeanor offense on Wednesday, March 6.
Vote on this Story by clicking on the Icon