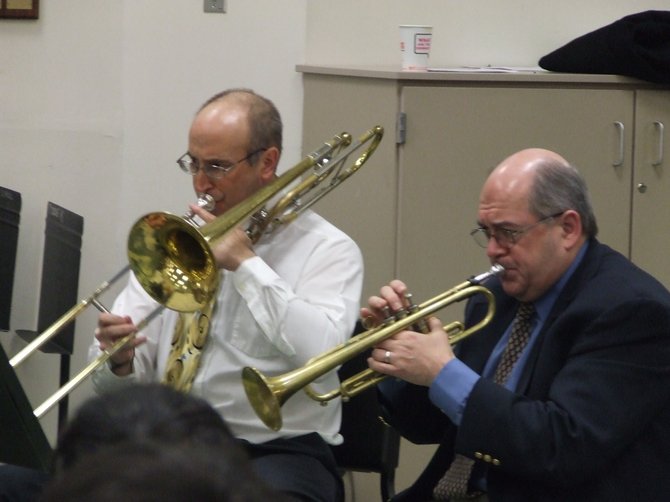 COLONIE — To Crane School of Music bassoon associate professor Carol Lowe, working in music education is like living on a swinging pendulum. Everyone sees value in the arts, but they are always easy targets when it comes time for budget cuts, she said.
"There have always been periods of, 'We need more music, we need less music.' The pendulum kind of swings back and forth. Right now, it's definitely in the, 'We need less music.' It's a scary time. I know there are a lot of places that are cutting back on positions, in the arts specifically," said Lowe, who has been teaching at Crane for seven years. "But I think the people who have experienced music realize its value is so much more than someone who hasn't had that experience can see."
Lowe's innate passion for music has driven her to pursue it as a profession for the past 30 years, when she started playing bassoon in North Carolina, eventually landing a job at the Crane School of Music at SUNY Potsdam. Lowe joined several other Crane teachers at Colonie Central High School on Thursday, Feb. 28, and Friday, March 1, when they performed and gave advice to students about where they can go with their musical skills. Performances included concerts by the Crane School of Music Symphony Orchestra and the Potsdam Brass Quintet.
Although the pendulum is not currently in music education's favor, Lowe told students she is optimistic for the future of passionate young musicians.
"If you love playing, there are always opportunities to play, if you really want to do it. You can find the time, find the energy," she said.
Lowe said she began teaching after being inspired by "an absolutely fabulous, motivational band director."
"He just made it look like so much fun. When I was on my own and teaching I saw the result of my words and how much I could help my students find what they wanted career wise, find their musical voice," she said. "I love that moment when you can help a student find their passion. It's so rewarding."
(Continued on Next Page)
Prev Next
Vote on this Story by clicking on the Icon