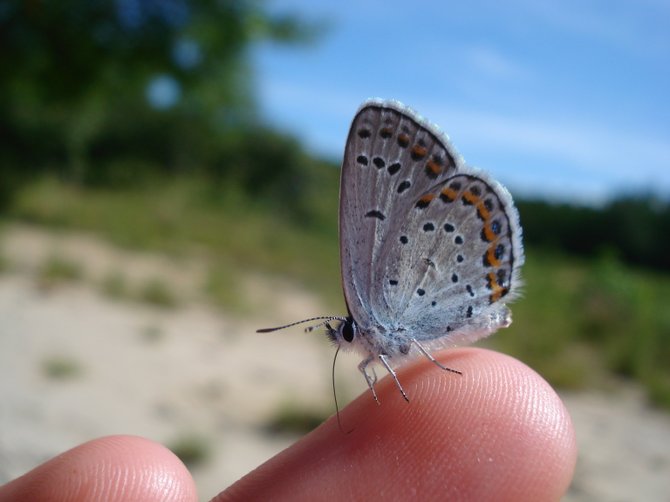 continued — By combining artwork created by students at Farnsworth, along with Permaul's butterfly story and photographs of the Pine Bush, Wendy Craney, the communications outreach director at the Pine Bush, began to put together the first stages of the book. The book took three years to complete and sits today on shelves in the Discovery Center gift shop and the miSci (Museum of Innovation and Science) in Schenectady where there is currently an exhibit about native butterflies.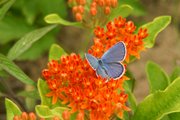 Craney said the earnings from the book will go to the Albany Pine Bush Commission.
"The idea is to use the proceeds to help with our conservation and management work that we do here in the preserve for the Karner Blue butterfly," she said.
Folmer hopes the book will spark an interest in young children and their parents about the life of the Karner Blue and the learning opportunities at the Discovery Center.
"There are a lot of interesting things you can learn here at the Discovery Center," he said.
The March 9 event at the Albany Pine Bush Discovery Center, located at 195 New Karner Road in Albany, will include a reading of "Mister Karner Blue" by Permaul along with a book signing party from 1 to 4 p.m.
Educators will be available to answer questions and will lead a "storywalk" through the trails of the Pine Bush where visitors can walk along the trail and learn about "Mister Karner Blue."
Permaul said she would like to write more children's stories in the future, but doesn't have anything in particular in mind just yet. For now, she said she is happy in helping to raise awareness about the importance of "Mister Karner Blue."
"Everyone keeps asking me if I'm going to be famous," said Permaul with a giggle.
The Discovery Center offers a variety of programs throughout the year for individuals of all ages. Admission is free and the center is open year round. Find out more about the Albany Pine Bush at www.albanypinebush.org.
Vote on this Story by clicking on the Icon