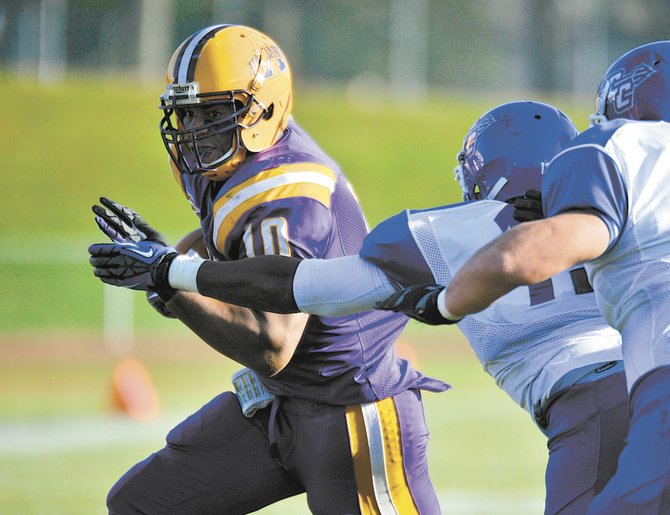 "It was a blast. I had a great time," said Smith, who gained 4,721 all-purpose yards and scored 45 touchdowns in his career. "I wasn't sure what to expect coming to Albany. There are so many kids coming in with you, you don't know if you're going to make it. I was fortunate to come in and given the chance to contribute right away."
A quarterback at Guilderland, Smith switched to tailback in his freshman season – a transition he said wasn't hard to make.
"I was always between those two positions. So, it wasn't that much of a transition for me," said Smith.
Smith's first two seasons at UAlbany showed a steady progression. He rushed for 379 yards in his freshman year while running behind starter David McCarty, and he nearly doubled his yardage in his sophomore season as he gained 753 yards in his first campaign as a starter.
Smith said his biggest leap forward came in his junior season when he rushed for 1,092 yards 10 touchdowns to help the Great Danes win the Northeast Conference title and go to the NCAA FCS tournament.
"I had to change my running style in my junior year," said Smith. "I had to stop being afraid of contact … and I had to use my size to my advantage."
Smith put up similar rushing statistics in his senior season, as he gained 1,001 yards on 195 attempts. But it was the number of touchdowns he scored that attracted the attention of the NFL.
"Touchdown production was huge, and that's probably what got the attention of the scouts," said Smith.
Between what he did for UAlbany and what he did at the pro day, Smith is hoping he has the resume he needs to get a shot with an NFL club.
Vote on this Story by clicking on the Icon