continued — If both proposals had been passed by the public, annual taxes would have risen by $20.17 for a home valued at $100,000.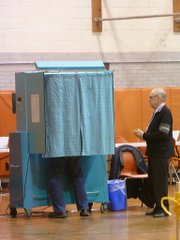 The booster group felt the price might have been just high enough to sway people away from paying for the field. Their initial surveys showed the public would be willing to pay an increase of $25 in taxes for a home valued at $250,000, but the district's proposal was nearly double that amount. They also knew the votes would be harder to get once the vote was split.
"When you have two working parents like most of the families in the Town of Bethlehem, every dollar matters and its hard to justify something that in some people's minds can be deemed an extravagance," said Bonanno.
Douglas said the bond will help take some of the burden of the district during its budget process.
"Our fiduciary responsibility is to the community and its taxpayers to do what is best for them," he said. "The items here have such a cost structure that the majority of them could not be placed within the budget and if we did, we would have to cut from a large portion of other needed areas to fund these types of options. The hard part for people to understand is if we put it in the budget, we are also asking the district to pay that extra 70 percent of the cost picked up by the state in aid."
Although some minor upgrades can start soon, major construction projects aren't expected to begin until 2014 after the projects go to bid. The next board meeting on the budget will take place on Wednesday, March 20, and focus on special education and transportation.
Vote on this Story by clicking on the Icon