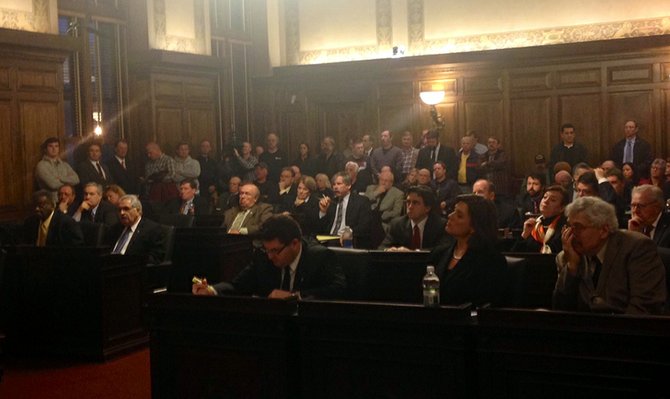 ALBANY — Gun rights advocates came to a meeting of the Albany County Legislature fully loaded in support of a Hilltowns legislator's push to repeal the SAFE Act.
The chamber overflowed on Monday, March 11, with a majority of the gathered crowd voicing opposition to new gun control laws. Republican Legislator Deborah Busch presented a proclamation for fellow lawmakers to sign in support of repealing the SAFE Act.
At least 14 legislators had signed the proclamation by the end of the meeting, according to Busch, meaning at least four Democrats signed on. It was not immediately clear which legislators signed the document.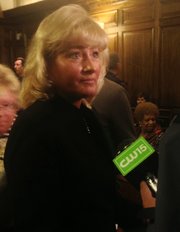 The proclamation was not an actual resolution and there was no vote on the measure. Busch circulated it during the meeting. She acknowledged getting a majority of the heavily Democratic body to support such a resolution was unlikely.
"We are obligated to do the right thing regardless of party affiliation," Busch said to fellow legislators. "Please remember that the constitution came before the parties that were developed to run candidates."
Busch, a first-term legislator representing the Towns of Rensselaerville and Westerlo and portions of the Towns of Knox and Berne, said the SAFE Act threatens Second Amendment rights and is unconstitutional.
Many residents shared similar remarks during the public comment portion of the meeting, which was voted to be extended by 30 minutes after the initial hour ended. Many of the roughly 40 people who signed up were still waiting to speak, though some were commenting on other matters.
Joe Shufelt, an Albany resident identifying himself as a retired federal agent, said the SAFE Act should have been developed "rationally" and followed the normal three-day hearing period.
"I'm here to ask the Albany County Legislature to pass a resolution opposing the SAFE Act," Shufelt said. "Now, I've been told that by asking you folks to pass this resolution I might as well go over there and bang my head on the wall."
(Continued on Next Page)
Prev Next
Vote on this Story by clicking on the Icon