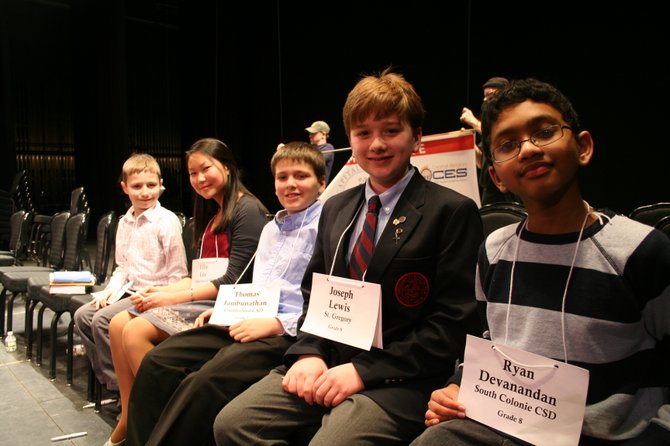 COLONIE — For the third year in a row, South Colonie student Ryan Devanandan found himself standing on the stage of Proctor's Theatre at the Capital Region Spelling Bee on Tuesday, March 5.
The 13-year-old spelled word after word over the course of five hours and watched as the crowd around him thinned. But this year was different from his previous appearances. This year, he was the last one standing.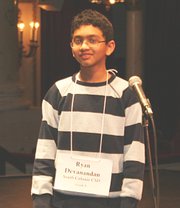 Triumphing over 117 other spellers, the Sand Creek Middle School student won the 2013 Capital Region Spelling Bee by correctly spelling the word "prevaricate," meaning to deviate from the truth. Now, with his recent accomplishment, he will represent the Capital District at the Scripps National Spelling Bee in Washington, D.C. this spring.
The annual bee calls for students in grades four through eight and under the age of 16 to represent their districts in the regional spelling bee. It is sponsored by BOCES, The Times Union, Hannaford Supermarkets, the Upper Hudson Library System and Time Warner. This year's event drew in contestants from 62 school districts and charter and parochial schools.
Although Ryan said he didn't know the word "prevaricate," hearing its meaning and Latin origin helped him confidently spell it. He said he prepared for the bee by studying lists of words and learning patterns of word origins, like Slovic, German and French.
"My favorite way to practice is to read through a list of words, make a list of the hard ones and write them down a few times so they stick in your memory," he said.
Before the Regional Spelling Bee, Ryan won his school spelling bee with the word "notabilia," meaning a collection of notable items. He had won his class spelling bee by default because no one else signed up to compete.
For his accomplishment, Ryan took home an all-expenses paid trip for him and a chaperone to Washington, D.C. for nationals; a laptop donated by Hannaford; a $200 check; a Webster's Third New International Dictionary; a one-year subscription to Encyclopedia Britannica Online donated by Encyclopedia Britannica; a special gift pack from Proctor's Theatre; and the Samuel L. Sugarman Award – a 2013 U.S. Mint proof set.
(Continued on Next Page)
Prev Next
Vote on this Story by clicking on the Icon