COLONIE — A Schenectady woman was arrested early Wednesday morning after assaulting a police officer, Colonie police said.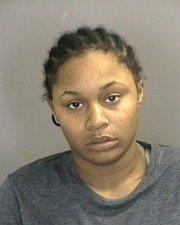 At 1:48 a.m. on Wednesday, March 13, two Colonie Police Department Patrolmen, James Herbst and Thomas Breslin, made a traffic stop in front of 1600 Central Ave. in Albany. The male driver, Eusi J. Williams, 32, of Thornton Street in Albany, was found with a suspended license and the female passenger, Denita S. Collier, 19, of State Street in Schenectady, identified herself under a fake name, police said. Police said Collier began to flee on foot and resist arrest by fighting with Herbst when she was caught. Herbst tasered Collier, but she continued to fight, forcibly taking Herbst's baton and striking him on the head, police said. The officer regained control of the baton and Collier was taken into custody.
Herbst went to Albany Medical Center and received staples for a one-inch laceration to his head and was released shortly after.
Collier said she believed she had a warrant from the Schenectady Police Department for an assault on a police officer last year, police said.
Both Collier and Williams were charged, arraigned and sent to Albany County Correctional Facility. Collier was remanded without bail to reappear in Colonie Town Court on March 18 and Williams was remanded in lieu of $700 cash or $3,500 bond to reappear in Colonie Court on April 1.
Collier was charged with robbery, a felony in the first degree; assault, a felony in the second degree; criminal possession of a weapon, a misdemeanor in the fourth degree; resisting arrest, a misdemeanor; and false personation, a misdemeanor. Williams was charged with aggravated unlicensed operation, misdemeanors in the second and third degree; unlicensed operation of a motor vehicle, a traffic infraction; excessive window tint, a traffic infraction; no brake lights, a traffic infraction.
Vote on this Story by clicking on the Icon