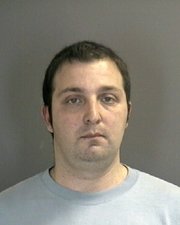 COLONIE — A 32-year-old Colonie man was arrested Wednesday for criminal sex acts against a 15-year-old boy, Colonie police said.
The man, Carl E. Derush, of Benjamin Lane in Colonie, met the boy virtually through grindr.com, and then in person, in a non-sexual encounter, before March 2. The only criminal incident, police said, was on March 2, when Derush had oral and anal sex with the boy. The boy reported the incident on March 6.
Derush was arraigned on Wednesday, March 14, in Colonie Justice Court, with a set bail of $30,000. Derush did post pail, police said, and his next court date is scheduled for March 18 in Colonie Justice Court. He was charged with criminal sex act, a felony in the third degree, and endangering the welfare of a child, a misdemeanor.
Police said there are no indications of other victims, but urge anyone to contact the Colonie Police Department at 783-2744 with pertinent information.
Vote on this Story by clicking on the Icon