COLONIE — At 95 years old, Shirley Fein Sheriff is fearless.
While she's grown a little more cautious over the years, she's never been apprehensive when it comes to exploring the world. Her carefree way of living led her to join the American Red Cross, where she stared death in the face during World War II, developing her own ways to help soldiers with PTSD and later attending the Nuremberg Trials.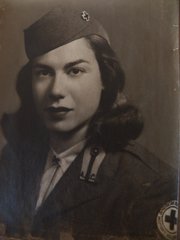 But after years of volunteering away from home, she said she never thought what she was doing was anything too remarkable.
"I always thought it was very ordinary, my experience. My friends did it. It's not unusual," Sheriff said. "But it's become extraordinary."

Sheriff now lives at the Beltrone Living Center in Colonie, where she was honored as a 2013 Legacy recipient by the American Red Cross Northeastern New York Region on Thursday, March 7, for her humanitarian efforts during the war. She joined another honoree, 73-year-old Tom Pillsworth, also an American Red Cross Services to Armed Forces Volunteer, for the "Our Legacy Continues Project" that serves to recognize American Red Cross members for their work in the military and highlight March as Red Cross Month.
Sheriff, the mother of three and grandmother of five, said she never expected to be honored but was very humbled. Her time working with the American Red Cross, she said, allowed the courage to take on any job because after all of her wartime experiences, she felt there was nothing she couldn't do.
"I felt that no matter what job I ever had, I could do it. I had so much confidence in myself," she said.
Growing up in Riverdale, Sheriff was one of eight children. In her late teens she began working in a pediatric hospital and later, the Brooklyn Navy Yard and the Anaconda Wire & Cable Factory in Yonkers. During World War II, she decided to volunteer with the American Red Cross and at 27 years old, she was sent to France in March of 1945. While staying at the Normandy Hotel in Paris, she was given her first assignment: working at a triage hospital with American prisoners of war who had just been released from Germany.
(Continued on Next Page)
Prev Next
Vote on this Story by clicking on the Icon