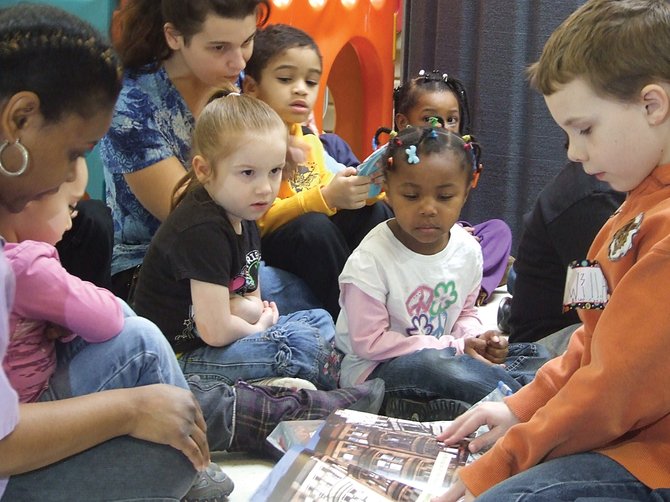 COLONIE — Charitable donations tend to skyrocket during the holiday season, but they're also traditionally followed by a lull when the snow starts to melt. But for programs like the Parsons Child & Family Center's Early Head Start, assistance is needed year-round.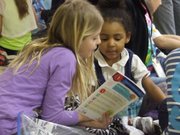 "We get into the spring, away from the holiday season, and the donations tend to taper," said Melissa Tolosky, the community involvement and special events coordinator at Parsons Child & Family Center.
To break the pattern, third graders from Blue Creek Elementary School spent the morning of Wednesday, March 13, handing out bags of pajamas and books to children at Parsons Early Head Start in Schenectady. Over the course of about five months, the Blue Creek students collected more than 600 books and 125 pairs of pajamas for donation.
Early Head Start is a program that provides early childhood curricula for infants to children up to 3 years of age that works with Parsons, which helps families and their children with abuse/neglect treatment, family strengthening and counseling services. The program reaches about 9,000 kids and families each year throughout Upstate New York.
Collections for pajamas and books began in September, when Blue Creek School Counselor Eileen Satterlee and third grade teacher Kathleen Berger discussed ways the school could help out the community.
"We do service learning every year. We try to find projects that kids are interested in. Our goal is that they grow up understanding that as a part of a community, you need to help others," Berger said.
The previous year, Berger's class collected and donated board games to children who lost games during Tropical Storm Irene.
This year's project began on the first day of school, when students were asked to make bookmarks for the Early Head Start children. They began a school-wide pajama drive, collecting 125 pajamas from children and their families. In December, they held a book drive to continue the project, collecting more than 600 books. The Schenectady Rotary Club also donated $300, helping the Blue Creek students purchase extra pajamas.
(Continued on Next Page)
Prev Next
Vote on this Story by clicking on the Icon