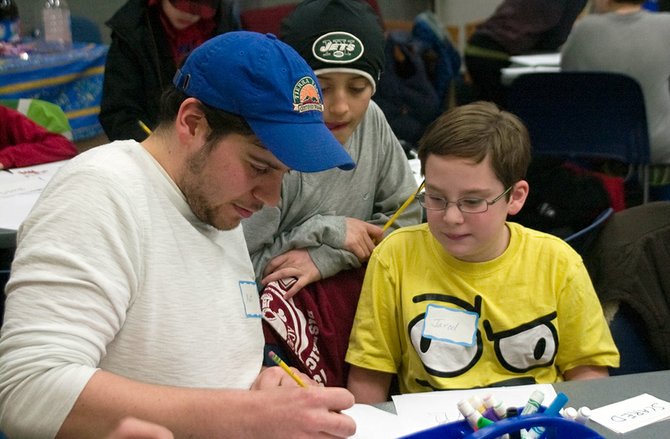 continued — "Between Lego building and technology, boys come to the library … and the comics do hook them," she said. "There is a lot of comics for girls nowadays."
Comics can also lead to kids enhancing their own creative expression.
"So many young people that read comics love to draw comics," Joyce Laiosa said. "They don't have an idea of how to get started, how to make their characters do things."
Matthew Laiosa said he was always interested drawing and illustration, which led him to study it in college. Since graduating with a bachelor's degree, he has been working on building his portfolio and has applied for grad school. He also wants to instill his love for the medium on a new generation.
"I wanted to focus on a step-by-step approach on how I create characters and once they have those basic tools then you can write any story because you can just keep on inventing characters," he said.
He started off by showing the kids how to draw six main facial expressions and then gave a few examples on how to combine two expressions to make others, such as how disgust and sadness can combine to show pain.
Then, kids went through the process of developing a character, which involved picking an emotion, animal and occupation — leading to a confused, crocodile farmer for the example. This led him to show the various levels of illustration, starting with the "skeleton" to finished character.
The children then picked a conflict and basic storyline, with Matthew showing the process of creating panels to tell the story.
Two more workshops will be held at the library in the beginning of April, during students' spring break from school.
Author and illustrator Sylvie Kantorovitz will read from "Go to Bed, Monster!" Wednesday, April 3, at 10:30 a.m., and have drawing games teaching about faces, expressions and characters in motion. No registration is necessary.
Then on Thursday, April 4, at 1:30 p.m., George O'Connor will share how he draws his characters and discuss his creative process. In his "Olympians" series he retells Greek myths through comics. Registration is required.
For information on upcoming programs and how to register visit the library's website voorheesvillelibrary.org or call 765-2791. The library supplies any needed drawing materials for programs.
Vote on this Story by clicking on the Icon