continued — The students stayed at Camp Restore, a "home away from home" for volunteers helping in the Ninth Ward. They were also able to explore New Orleans, visiting where the levy broke during the hurricane, seeing the Hurricane Katrina memorial and meeting the mayor.
Talking to the people of New Orleans turned out to be the most inspiring experience for Hartman, though. She said one worker from lowernine.org had lost everything in the hurricane but was determined to help others rebuild their homes. She said she has already started talking to other students from the trip to raise money to rebuild the man's home, since he is living in a tiny trailer at the moment. Yet Hartman said she thinks he'll still use the money to keep helping others, instead.
"The people down there are the strongest people you could ever meet," she said. "They have every right to be upset and discouraged, not knowing what to do. Especially after eight years of not getting the help they should receive. They're just so strong, so happy."
The St. Rose group wasn't able to finish their projects in the short week they were there, but Hartman said she hopes the homes they worked on get completed.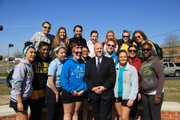 Laura Paul, executive director of lowernine.org, said several groups finish the projects over the course of four or five months. Since officially starting the organization in 2008, lowernine.org has rebuilt more than 60 homes and worked on hundreds of smaller projects. Since the hurricane hit, 30 percent of the homes in the Ninth Ward have been reconstructed.
"The people who we're dealing with now … they really have no other options. These people didn't get a lot of breaks," Paul said. "It's a really great service to the community."
Only days after returning to New York, Hartman said she's already thinking about going back to New Orleans.
Vote on this Story by clicking on the Icon