COLONIE — Both North and South Colonie school districts have been recognized as two of the best districts at which to receive a music education nationwide.
Last week, the National Association of Music Merchants (NAMM) Foundation announced its 14th annual Best Communities for Music Education survey results, naming both of Colonie's school districts as among the 307 communities chosen nationwide. NAMM is a nonprofit organization dedicated to advancing active participation in music. With more than 2,000 applications submitted, Colonie fit among the foundation's requirements including student achievements, community support for the music program and instructional time.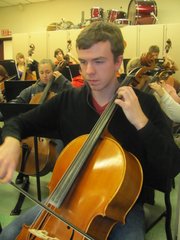 This was the South Colonie Central School District's first year applying for the recognition. Peter Cannistraci, who has been with the district for 15 years, including nine as the music department chairman, said he spent a number of weeks filling out the 20-page survey before submitting it in January. It asked everything from "numbers of teachers, to facilities, to graduation requirements … every aspect to the music program," he said.
"I'm really proud of our community and proud of our school district. I've always known that Colonie was a great community for music education," Cannistraci said. "It's really a special thing to be recognized at that level."
More than 1,500 South Colonie students play in band, orchestra or chorus, and more than 80 percent of middle school students are involved in music, Cannistraci said. There are 20 music teachers in the South Colonie district. While only a small number of students pursue higher education in music, Cannistraci said many of the students continue to perform at the college level.
Cannistraci said he heard about the survey after the North Colonie School District won the past two years. North Colonie secured its third year in a row among the best music education communities and District Music Supervisor Deborah Keough said she was excited to hear that tradition is continuing.
(Continued on Next Page)
Prev Next
Vote on this Story by clicking on the Icon