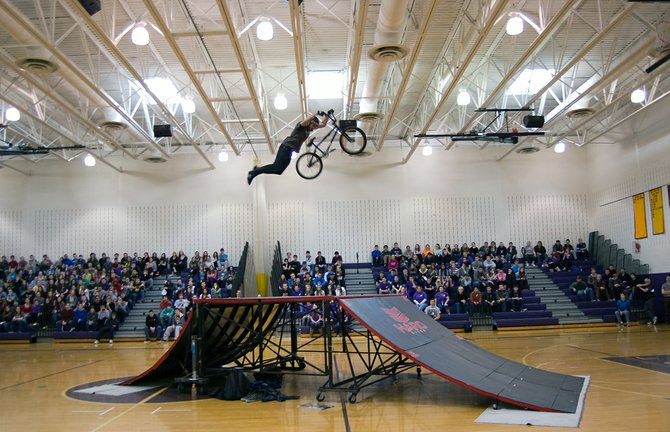 VOORHEESVILLE — The act of keeping healthy reaches new heights when you do a backflip on a bicycle, or go into the depths of the earth exploring caves.
Voorheesville Central School District's Wellness Committee held its second Wellness Day at the high school and middle school Thursday, March 21, which was kicked off with BMX riders soaring into the air off a ramp in the gymnasium. The importance of practicing safety and wearing proper equipment while participating in any sport was stressed, along with not attempting a back flip like the ones three riders of the Rise Above BMX team performed with ease.
There were also workshops throughout the day featuring various wellness activities students could further explore, such as spelunking, wilderness survival, rock climbing, fencing and even humor. The workshops were aimed at introducing students to activities they wouldn't normally experience in athletics offered by the district.
"The importance of it is we spend a lot of time focusing on academics in schools and I think sometimes what is missing is there is a whole other element — the wellness element," High School Principal Imran Abbasi said. "It is not just sports, but we are trying to find things for kids to do outside of school that are healthy hobbies and fun things for them to do that are lifelong."
Abbasi said many staff members brought in friends to teach the workshops, and the district partnered with local businesses and organizations to host the Health and Wellness Fair at the event. He said area experts expose students to new activities that can be done locally.
"I think it is nice for kids to see that adults have healthy hobbies as they get older," Abbasi said. "It is good for stress relief. It is good for general wellness."
Jeanne Young, co-chair of the Health and Wellness Fair and a social studies and history teacher, said the more than 20 agencies and businesses at the event educated the students about how to be healthy in "mind, body and spirit." Some of the things featured at the fair included massage therapy, Reiki, mental health services, nutrition and food preparation demonstrations.
(Continued on Next Page)
Prev Next
Vote on this Story by clicking on the Icon