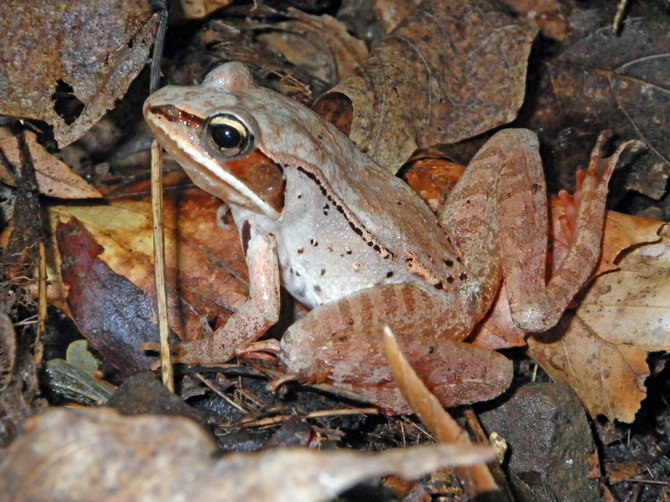 The eggs in the mass act like tiny magnifying glasses refracting the sun's light and heating the area around the eggs several degrees warmer than the pond water. This increases water circulation, bringing more oxygen and nutrients to the eggs. A symbiotic alga also grows on the eggs, producing oxygen in exchange for carbon dioxide and other waste the embryos want to get rid of. This alga in turn becomes food for newly hatched tadpoles. Eggs hatch in 2-4 weeks and tadpoles metamorphosize into frogs in 2-3 months
The wood frog is recognized by its brown color and distinctive raccoon-like dark mask around the eyes. Adult females are larger than males and can turn a pinkish beige during mating season, while the males turn darker brown. Adult diet includes flies, gnats, beetles, caterpillars, spiders, snails and slugs. Snakes, raccoons and waterfowl predate on wood frogs. Adult habitat is generally deciduous forests with moist shaded forest floor.
The author is a licensed NY State Hiking and Camping Guide and owner of Critter Patrol LLC, an outdoor adventure, education and environmental business. To find out more about Critter Patrol programs and our current Adopt a Forest junior forest stewardship program for students, in conjunction with the Mohawk Hudson Land Conservancy, email Paul at critterpatrol@earthlink.net.
Vote on this Story by clicking on the Icon