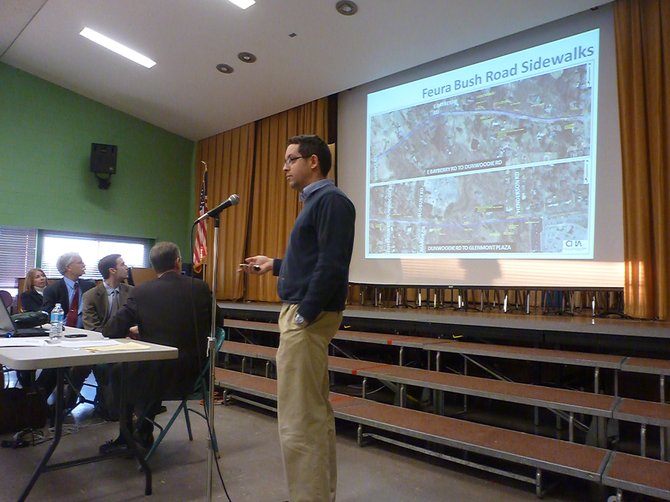 continued — Town Planner Jeffrey Lipnicky discussed the progress of the Route 9W Study and commercial development in the area. Proposals include the eventual installation of a traffic circle at the corner of Feura Bush Road and Route 9W, the addition of bike lanes and sidewalks, more traffic lanes and a raised median. However, the project could take up to 15 years to be fully completed because the development relies on approval from the state and state funding.
Lipnicky also gave an update on the Wemple Corners development proposed by Midtown Plaza. The huge mixed-use project would consist of 526 residential units and 160,000 sq. ft. of retail space. The units would include about 150 senior apartments, 56 single-family twin homes and about 320 multi-family apartments. The 95-acre site is currently zoned mixed economic and the applicant is looking for a zone change to commercial hamlet zone.
"The process they have to go through to accomplish this is a zoning change and then following that, depending on which portion of this overall portion is being proposed, they also have to come back to the town for subdivision approval and/or site plan approval," said Lipnicky, who told the audience to expect the project on an upcoming Planning Board meeting.
Deputy Town Planner Robert Leslie discussed the proposal to build a senior housing development off of Glenmont Road behind St. Matthew's Cemetery. Called Glenwood Village, the 15-acre site would include 148 housing units in two building for those 55 and older. The development would also include a clubhouse for activities.
Many residents at the meeting were most concerned about the amount of development in the area. They wanted to know how it would affect their property values, how the developments would impacts their taxes and what would be done to handle traffic.
"The market really drives what is built," said Clarkson. "My personal feeling is, we're seeing a lot of new proposals lately for developments and I'm a little leery because if the market overshoots, we'll be left with a bunch of apartments at a degraded value."
Vote on this Story by clicking on the Icon