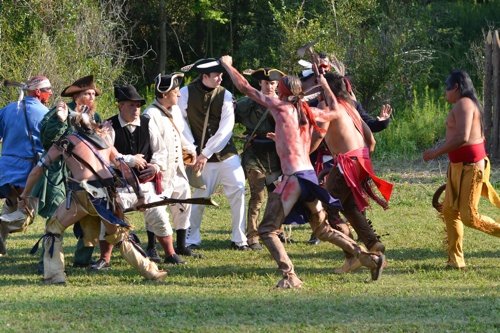 continued — He has spent the last three years producing The Last of the Mohicans Outdoor Drama in Lake George.
"I'm excited because it's a new project for me. I think historical fiction, whether its novels or plays, gets people curious about the rest of the story. Most of these plays really are about the tip of the iceberg," O'Connor said. "It shows a small portion of the Revolutionary War, but throughout the play it introduces many historical characters and some events you may have not been aware of. It piques people's curiosity."
Referring to the play as "edutainment" Jenks said the experience of the show is very unique. In addition to the large cast, the outdoor drama will also feature livestock, including sheep and chickens, to add to the realism to the scenes.
"The edutainment experience means that the senses are stimulated. The story that we tell did take place in July and August in 1777, so the show also takes place in July and August. Whatever weather is being experienced by the audience is the same whether that happened during those events in 1777," Jenks said.
Of course, those sorts of elements can create challenges for an outdoor drama, but O'Connor said that adds to the excitement.
"That's the exciting part … when you marry that historical fiction to the actual location," O'Connor said. "It's always more exciting to do it in the area where it actually happened."
This year's performances will take place on Saturday, July 27, and Sunday, July 28, at Tawasentha Park on Route 146 in Guilderland, and Saturday, Aug. 3, and Sunday, Aug. 4, at Gelston Castle Estate at 980 Robinson Road in Mohawk. For more information on the shows, visit www.datmod.com.
Vote on this Story by clicking on the Icon